Sushi is one of the most famous Japanese foods. There are a few different types of Sushi: Maki-zushi (Sushi rolls), Chirashi-zushi, Nigiri-zushi (Small Sushi ball tossed with raw fish or other ingredients).
Temaki-zushi is another style of Sushi, which is suitable for a casual home party. "Temaki" means to wrap up with your hands. "Temaki-zushi" is a kind of Sushi where you can choose your favourite fillings and roll the Sushi up yourself.
We, Japanese people, also like having a Temaki-zushi party, which is fun for everyone from children to adults.
Preparation takes a little time as a host, but once you have all of the ingredients and fillings on the table, you can just sit down to enjoy food and conversation with your friends.
In this post, I introduce how to prepare a Temaki-zushi party, the popular ingredients for Japanese people for this type of Sushi party and also what kinds of fillings are recommended for Western guests.
Ingredients for Sushi Rice
Rice for Sushi
Japanese Rice (Sushi Rice): 4 cups
Water: 4 cups
Konbu Kelp: 20g (as big as a postcard)
Sushi Vinegar
Vinegar: 100ml (80-120ml)
Sugar: 5 tablespoons
Salt: 1 tablespoon
How to make Sushi Rice: An Easy way at home
Cook rice in a rice cooker, with a piece of Kombu Kelp if available.
After the rice is cooked, remove the Kelp, add Sushi vinegar while the rice is still hot. Quickly turn over the rice with a spatula to spread the Sushi vinegar overall.
Cool it down for a while. Sushi rice is normally served as chilled, but warm Sushi rice is the easiest to handle to make Sushi rolls.
When you turn over the rice after adding the Sushi vinegar, it is better to move the spatula wildly and quickly so that you can avoid the rice from getting sticky. Cooling down in a short time makes Sushi rice get beautifully shining colour.
Fillings for "Temaki-sushi" party
Here, I introduce some classic ingredients for Sushi party for Japanese people and the popular fillings for non-Japanese guests.
Sashimi (raw fish)
Maguro (raw Tuna): I will serve it marinated in a sauce today.
Salmon: Sliced or chopped as Tartar with Mayonaise.
Horse Mackel (Aji): Sliced or chopped and marinated with Miso paste.
Shrimps
Tuna, Salmon, Horse Mackerel can be served after seared, tossed with chopped spring onion and wasabi (This is my favourite!)
Cooked Seafood
Tuna Mayo: Mixed canned Tuna with Mayonaise and seasonings.
Ebi Mayo: Chopped and boiled shrimps with Mayonaise.
Deep-fried Shrimps with panko (breadcrumbs)
Meat
Deep-fried Chicken ("Karaage): fried with potato starch or corn starch which is gluten-free. Children's' favourite.
Teriyaki Chicken: sauteed chicken with Teriyaki sauce (sweet soy sauce). Children's' favourite.
Roast beef: thin-sliced roast beef goes well with wasabi.
"Niku-miso" Minced pork with Miso (soybeans paste): good with salad leaves too.
Eggs
Baked eggs: Children's' favourite.
Vegetables
Cucumbers
Lettuce: go well with other Mayonaise fillings.
Avocados: popular for non-Japanese.
Simmered Mashroom with sweet soy sauce: popular stuff for Maki (rolled Sushi).
Sauce and seasonings (served in individual plates)
Soy Sauce
Wasabi
Sliced Ginger: option
Chopped Spring Onions: recommended
Sesame seeds: option
How to serve the Temaki-sushi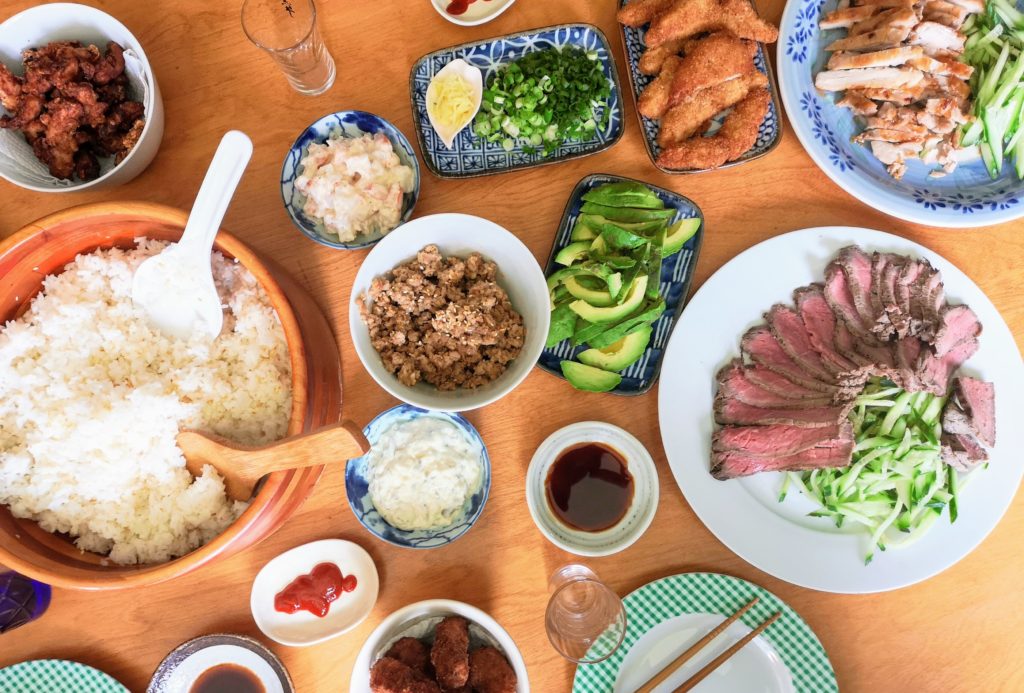 You just put everything on the table and let your guests choose the ingredients they like and they can then wrap the Sushi rolls by themselves.
(You may need to demonstrate how to wrap it up)
For a Temaki-sushi party, you need to have Sushi rice, the fillings and seaweed. Seaweed should be cut in a square about as big as your palm. If you have big sheets of Sushi seaweed, you just need to cut them in four usually.
Don't forget to prepare soy sauce individually for your guests and Wasabi as they like.
Tuna (Maguro) Marinated with Soy Sauce
Ingredients for Tuna (Maguro) Marinated with Soy Sauce
Frozen Tuna
Soy sauce: 3 tablespoons
Mirin (or Maple Syrup): 2 tablespoons
Sake (or white wine): 4 tablespoons
Konbu Kelp (if available): 1 piece
How to defrost the frozen Tuna
What you need:
a bowl
warm water: 1L
salt: 50g
Pour 1L of warm water in a bowl and add salt in it (5% of saltiness). Stir it well, then put the frozen tuna in it.
Leave it for a couple of minutes, take tuna out. It must be still frozen, but you can see the colour getting a more vivid pink. Roughly wash the tuna with tap water to remove the salt.
Take off the moisture on the surface of the tuna, wrap it up with kitchen paper, then with a plastic sheet (sarum wrap/clingfilm). Keep it in the fridge for 12-24 hours until it is completely defrosted.
How to make Tuna (Maguro) Marinated with Soy Sauce
Put Mirin (Maple Syrup) and Sake in a pan, and heat it to allow the alcohol to evaporate. After it cools down, add soy sauce and stir it.
Cut tuna to an appropriate size.
Put the tuna in the sauce, add a piece of Konbu Kelp (if available).

Cover it tightly with a plastic sheet, leave it in the fridge for an hour.
The longer you leave it in the sauce, the saltier the tuna becomes.
When you serve it alone, you can add Wasabi, chopped spring onions, Shiso herb leaves, sesame, seaweed (Nori), and so on.
Why do we need to marinate the Sashimi Tuna?
Tuna is one of the most popular ingredients for Sashimi. If you are in Japan, it is not difficult to get decent quality Tuna for Sashimi, but that is not always the case when you are outside of Japan.
Marinating with this sauce makes the Tuna taste better and removes the fishy smell.
You can also add more flavour by adding some slices of ginger.